The Willow Tate Novels of Celia Jerome from DAW BOOKS:
Night Mares In The Hamptons
Graphic novelist Willow Tate is a Visualizer, able to draw images of beings from the realm of Faerie—possibly "drawing" them from their world to ours in the process. First came a ten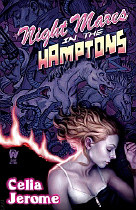 -foot-tall red troll who followed her from Manhattan to the small town of Paumanok Harbor in the Hamptons. Willow realized then that many of her relatives and their neighbors possess a whole range of psychic talents—truth-knowing, scrying, weaving wishes, picking lucky numbers, etc. And all of them seem privy to everything that happens in her life.
So when magic and mayhem return to Paumanok Harbor, of course Willow is called upon to rescue the little town. Three magical mares are searching the Long Island village for a missing colt, and their distress is causing sleepless nights, bad tempers, and dangerous brawls among the gifted but peculiar residents.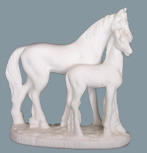 The Department of Unexplained Events sends Willow some help, a world-famous horse-whisperer. Texan Ty Farraday seems more interested in whispering in her ear, though, than in rescuing the kidnapped colt whose terror only Willy can feel.
Enlisting Paumanok Harbor's uniquely talented residents in the search, Willie still has to struggle with snakes, drug dealers, tourists, hidden caves, a mad scientist—and the almost overwhelming distraction of that sexy cowboy.
---