Trolls In The Hamptons

Willow Tate is a graphic novelist who earns enough mo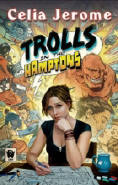 ney at her craft to keep her rent-controlled Manhattan apartment and still put food in the fridge. But when she decides to write about a ten-foot-tall troll who's a superhero, one suddenly appears, causing mayhem in Manhattan.

When no one else can see the stony red giant, Willy thinks she's gone crazy, until she meets Agent Grant from the Department of Unexplained Events. According to him, Willy has managed to break ages-old cosmic laws that could destroy the Earth as we know it. Now she has to help him save the world, rescue a little boy, and stop a murdering kidnapper who wants to use the power of a little village in the Hamptons to become master of the universe.

Along the way, Willy discovers that trolls don't deserve their bad reputation, that she's not the only person in Paumanok Harbor with special talents, and that magic and true love really do exist.